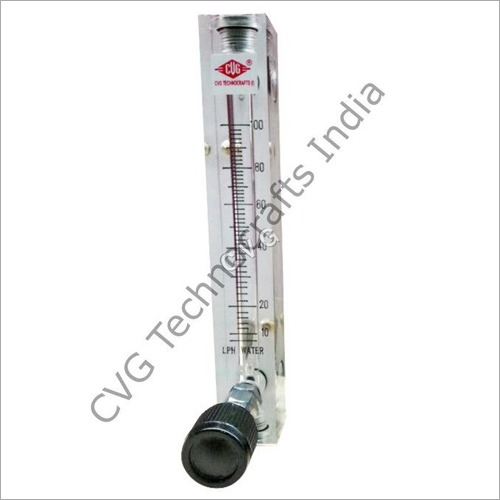 Product Description
Acrylic Rotameter
With an ambition to fulfill the needs and valued demands of our respected clients, we are engaged in offering a pioneering range of Acrylic Rotameter. We manufacture this rotameter with immense precision using excellent grade raw materials with the aid of modern techniques. Our valuable customers can purchase this rotameters from us at market leading prices. Offered rotameter is extensively used to protect equipments in case of tube failure by indicating leakage and high pressure of gases. Furthermore, our patrons can avail this Acrylic Rotameter from us at most affordable prices.

Features:
This rotameter is precisely manufactured by making use of rugged and solid acrylic blocks
Suitable for accommodating a greater range of temperatures, flow rates and environmental conditions.
For easy hookup it consists rear ports that are extended through the panel
Perfect for inline installation with screwed connection or flanged with numerous options of materials
Ideal for high pressure, high temperature and strong corrosive mediums
Provides significantly better application adaptability for industrial applications
Can be availed in either forged body or side-plate construction
All variants are equipped with high quality needle valves and ensures high stability
Functional for power-off protection and date recover
Further Details:
A Acrylic rotameter is a gadget that gauges the flow rate of fluids or gas in an enclosed tube. It fits in to a class of meters known as variable area meters, which determines flow rate by permitting the cross sectional area where the liquid passes through, to be different, creating a measurable effect.
We are the most renowned rotameter manufacturers & exporter in India. Our made to order manufacturing ability and pleasing customers flow requirements as given status for distributing quality flow meters with stability and resilience.

These Rotameter or flowmeters are comparatively trouble free and consistent instruments for incessant and constant flow rate sign. This flow meters comprises of an erect escalated, regulated tapered tube with float in the interior and a scale straight forwardly calibrated as per flow series taking into account operating Sp. Gr. / thickness and operating thickness with precision of +/- 2 % complete Scale Range.

The extensive range of Acrylic rotameter is used for a variety of diverse applications that makes us in the midst of the most excellent and most sort after rotameter supplier in India. Our manufactured range takes account of the glass tube, magnetic, low flow, acrylic body, gas, multiple and metal tube, air purge, digital, bypass, water rotameter & rotameters for the valve leak or seepage testing.
Technical Specification:
Model
Range
Screw thread
Accuracy
ml/min
(Liquid)
l/min
(Gas)
AR - 4T
60-60
8-80
40-400
0.1-1 0.2-2 0.25-2.5
1-4 1-10 1-12
Direct ƒ6
±4%
AR -6T
6-60
10-70GPH
16-160
25-250
80-400
100-500
100-600
200-800
100-1000
0.1-0.8 0.1-1.5 0.3-3 0.4-4 0.5-8 1-5
1-12 2-10 3-30
4-20 5-25 6-30
10-60 20-70
0.05-0.25m3/h
0.04-0.4m3/h
1/4"BSP (F)
AR -8T
2.5-25LPH
5-45LPH
6-60LPH
0.16-1.6m3/h
0.1-1m3/h
0.2-2m3/h
The outline size (mm)


A
B
C
D
E
F
AR-4T
94
27
21
14
14
70
AR-6T
102
30
25
20
M18*1.5
77
AR-8T
110
25
25
20
M18*1.5
80