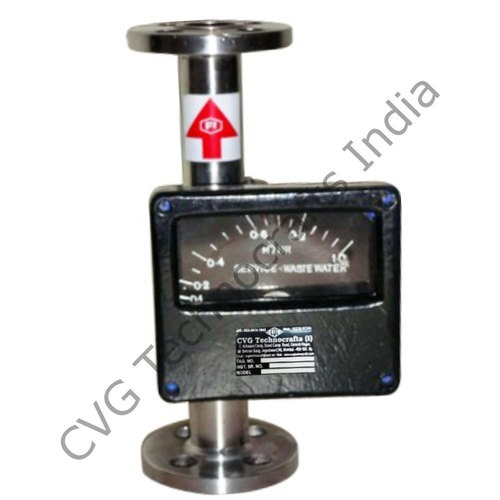 Product Description
Metal Tube Rotameter
Incepted with a goal to attain a distinct niche in industry, we are involved in offering Metal Tube Rotameter. It is manufactured using highly qualitative components. Offered device is compact in design and highly efficient in measuring different types of gases. Owing to to its excellent performance, it is widely used in different industries such as chemical, petrochemical and research laboratories. Our Metal Tube Rotameter is appreciate by customers owing to its below mentioned features:
Features:
Low maintenance
Accurate results
Low maintenance
Prolonged functional life
Further Details:

The CVG provides its valued customers with the superior and finest quality of the Metal Tube Rotameter that is created in agreement with the global standards. This Metal Tube Rotameter is generally utilized for solid and muddy liquids at high operating temperature and pressures. The Metal Tube Rotameters presented by us, are known for their rough construction, high presentation and resilience amongst our valued clients.

The CVG MTR series generally uses an essential and indispensable variable area flowmeter pattern: a float and tapered tube. As a consequence, these meters have extended linear scales and first-class pointer constancy. Both designs mark the non protruding float expansions and the magnetically attached indicators.

STANDARD FEATURES of the product is as follows:

The Float Does Not venture Out Of The Body
2 Tone Powder covered and has an outstanding Finish .
It has a Heavy Duty Design With greatest Visibility
The Single Piece ( Joint less ) PTFE / PP Claded Body
The Flow Ranges among 25 To 40000 LPH
No Threads In Body, and also keeps away from Corrosion
Angular Scale
It uses a variety of Material Of Construction
Precision ranges from : +/- 2% Of complete Scale
The Line Size From 15 NB To 100 NB
It is appropriate For In-Line Installation
The Measuring Span ranges from - 1:10
The Magnet used is :- Alnico
Furthermore, it is simple and trouble free To maintain
Technical Specification:

Technical Specification
Fluid
Liquids, Gases & Steam
Density / Sp. gravity
Up to 3
Viscosity
Up to 200 CP
Design Temperature
Up to 250°C
Design Pressure
Up to 30 Kg/cm²
Measuring Range
100 to 40,000 LPH of Liquids 3.3 to 1400 Nm3/hr of Gas NTP
Line Size
Up to 4" NB
End Connection Materials
SS304/SS304L/SS316/SS316L/
PTFE lined on SS
Connection
Flanged to ASA/BS/DIN Triclover, Standard Screwed to BSP/ NPT(M/F)
Accuracy
± 2% of FSD & ± 1.5% on request
Rangeability
10:1
Repeatability
0.2%
Scale length
90° Angular
Material of Construction
SS316, SS316L, SS304, Hastelloy C, TITANIUM
Indicator box
ABS, Cast AL, SS (optional)
Protection class
IP 65 on Request
Available options as per requirement are follows :
MTR With 4-20 mAmp Transmitter & Totalizer
MTR With Steam Jacket
Horizontal Metal Tube Rotameter
MTR with Rear Side Connection
MTR with screwed Conn.
MODEL : CVG - MTR

The Metal Tube Rotameter is principally a variable area flowmeter.
It is mainly utilized to weigh the immediate flow rate of liquid, gases under dangerous situations.
The indispensable working part is flow tube & accuracy machined magnetic float & gathering.
The location of the float is sensed by a magnet and specified on the dial in conditions of flow rate.
It can be established in line vertically upward & horizontally in the direction of right or towards the left.
Technical Specification :
Suitable for metering of translucent / opaque fluids under high
operating pressure and temperature.
Available Sizes :
In 316 SS construction with flanged connections in line size from 20 NB to
100 NB
Ranges :
100 to 60.000 LPH of water at ambient temprature. 2.5 to 1700 Nm³/hr
of air at NTP.
Accuracy :
± 2% of FSD & ± 1.5% of FSD on request.